safety services
Partnering with clients to create a safe environment where people and projects succeed.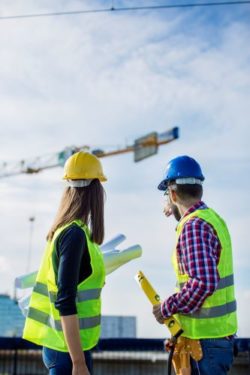 Merjent safety consultants and project safety managers provide solutions in safety, risk management, and industrial hygiene, and partner with clients to create a safe workplace and project. We are positioned to provide Safety Consulting Services to clients in oil and gas, electric power generation and transmission, biofuels, mining, land development, construction, manufacturing, healthcare, hospitality, and engineering consulting firms.
SAFETY CONSULTING SERVICES INCLUDE:
Project Safety Support
Providing safety professional staffing for short or long duration projects in the construction, mining, oil and gas, and refining industries. Typically utilized by customers for turnaround / shutdown, new construction, high risk, and contract or owner required projects. We hire professionals with experience working in industry that can relate to workers at all levels.
In addition to field experience, credentials for a Project Safety Professional typically include:
OSHA 510, 511, or MSHA 24-Hour
OSHA 500, 501, or MSHA Instructor
Board of Certified Safety Professionals CHST, OHST, CIH, or CSP Certification
Associates, Bachelors, or Master's Degree
Typical responsibilities of a Project Safety Professional include:
New hire orientation on site
Extensive visibility in the field
Perform safety audits
Conduct daily toolbox / tailgate meetings
Execute hazard assessments and site / task specific training such as confined space, respiratory protection, lockout tagout, etc.
Coordination of pre-job, random, reasonable suspicion, and post incident drug testing
Track and calculate safety statistics for project KPI's and OSHA log data
Act as a safety liaison between field professionals and site managers
Coach field professionals
Safety Management
Our consultants speak from experience, with passion for the profession and people.
Written program review and development including state specific programs like Minnesota's AWAIR.
Key Performance Indicators (KPI), leading and lagging metrics evaluation
Site and facility audits
Incident investigation
Facilitation and coordination of safety teams
Safety coordination for shutdown and turnaround projects
Preparation for OSHA Inspections, on-call for OSHA Inspection, and citation management and response
Assist with third party prequalification (i.e.: Avetta, ISNetworld)
Safety Training and Education
Merjent consultants are subject matter experts that can adapt their approach to your audience. Customized topics can be presented based on your organization's needs, let's build something together!
OSHA Outreach Training for Construction (OSHA 10 and 30 Hour)
OSHA Outreach Training for General Industry (OSHA 10 and 30)
Confined Space
Fall Protection
Excavation
Hazard Communication
Lockout/Tagout
Hearing conservation in construction or oil and gas
Lead in construction
Heat stress in general industry or construction
OSHA respirator regulations 29 CFR 1910.134
OSHA silica regulations for construction or general industry
Overview of the OSHA silica competent person requirements for construction
Overview of the OSHA permit required confined space regulations
Welding hazards in construction or general industry
OSHA personal protective equipment regulation – selection and care of general PPE (i.e. hard hats, hearing protection devices, safety glasses. gloves, safety shoes)
OSHA Hazard Communication regulation
OSHA Bloodborne pathogen regulation
Safety leadership for supervisors and executives
Instructional design for online training
Recorded webcast and live webinars
Assist with MSHA Part 46 New Miner Training and Annual Refresher; HAZWOPER
CPR, First Aid, AED
Risk Management
Let us assist you in managing your risk to stay competitive in your industry.
Risk assessment
Hazard analysis
Safety Committee development and steering
ISO 45001 and ANSI Z10
OSHA Voluntary Protection Program (VPP)
Minnesota OSHA CHASE, STAR, SHARP, and other state-plan VPPs
Minnesota OSHA Safety Grant application
Risk control consulting to supplement insurance carrier and broker teams
Industrial Hygiene
Our professionals are here to help your workers stay healthy at work.
Sampling, monitoring, and assessment of health hazards including:

Air contaminants
Noise
Ventilation
Dust: respirable crystalline silica, combustible dust, total respirable dust
Emergency Preparedness
Ensure your organization is ready for what could lie ahead.
Emergency Action Plan review
Department of Transportation Hazardous Material and Site Security plans
U.S. Coast Guard/U.S. Environmental Protection Agency (EPA) Facility Response Action Plans
EPA Spill Prevention, Control, Countermeasure Plans (SPCC)
Occupational Safety & Health Administration (OSHA) Emergency Response Plan Action Plans
Community and industry preparedness coordination
Assist with Nurse Case Triage and onsite First Aid services
Process Safety Management
We evaluate your program to identify gaps in implementation and make recommendations to improve effectiveness.
U.S. Department of Homeland Security (DHS) Chemical Facility Registration
Process Safety Management (PSM) program development
PSM gap analysis
Risk Management Plan (RMP) development
PSM and RMP mock audits
Process Hazard Analysis (PHA)
STAFF CERTIFICATIONS AND EDUCATION
Associate in Risk Management (ARM)
Certified Hazardous Materials Manager (CHMM)
Construction Health and Safety Technician (CHST)
Certified Industrial Hygienist (CIH)
Certified Safety Professional (CSP)
Master of Environmental Health and Safety (MEHS)
Master of Industrial Safety (MIS)
Master of Science (MS)
BOARD ASSOCIATIONS AND AFFILIATIONS