Integrated Vegetation Management
Integrated Vegetation Management (IVM) is the practice of promoting desirable, stable, low-growing plant communities that will resist invasion by tall growing tree species using appropriate, environmentally sound, and cost-effective control method.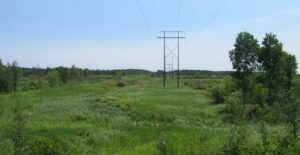 Resulting benefits include reduced costs and enhanced habitat for wildlife and pollinators. IVM implementation is typically a modification of existing, typical practices. Therefore, the transition from an existing vegetation management regime to a program that incorporates IVM can be straightforward.
Our team has successfully developed, implemented, and managed IVM programs on 13,000+ miles of utility corridors and hundreds of acres of company-owned properties. We understand the complexities of vegetation management, including economics, scheduling, invasive species management, and related environmental compliance obligations.
IVM

Objectives
Reduced Costs
Typical vegetation management is completed strictly by mechanical means on a cycle dependent on regulatory requirements. IVM reduces the effort by implementing a routine herbicide and mowing regime that is based on system planning and mapping. Case studies have identified an annual vegetation management budget decrease of 30-50% that is sustainable into the future.
Long-Term Control and Maintenance
After IVM is established, rights-of-way and other lands have more stable, low-growing, and less intrusive plant communities. These plant communities can compete against and resist invasion of incompatible vegetation making IVM an effective long-term vegetation management tool.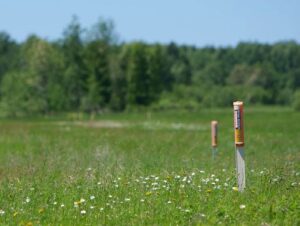 Regulatory Compliance
Utilities generally manage their rights-of-way depending on regulatory requirements, including maintenance of visual and physical access to their facilities. Strictly mechanical methods of removing woody vegetation leads to increased shrub and tree growth. IVM successfully suppresses unwanted vegetation over the long-term leading to more effective aerial and ground facility surveys, emergency service restoration, and planning.
Environmental Benefit
IVM creates, enhances, and maintains habitat for wildlife, including for the monarch butterfly and other pollinators, while simultaneously promoting natural erosion control and water quality improvements. Agencies, the public, and other stakeholders view these environmental benefits favorably.
Client-Specific Services
Merjent customizes IVM programs for each client's needs and expectations by identifying client-specific objectives for vegetation management, discussing how IVM can accomplish these objectives, and the ultimately developing and implementing IVM strategies. Merjent provides the following spectrum of IVM services from planning to public outreach and stakeholder engagement:
Planning
Program Development
System Mapping
Priority Area Identification
Scheduling
Regulatory Compliance
Training and On-Call Support
Evaluation and Assessment
Reporting
Public Outreach and Stakeholder Engagement